Even though it took her 97 years, Helen Danis finally got a chance to attend prom for the very first time.
Helen couldn't attend her own senior prom because she couldn't afford it. However, when her granddaughter, Julie Huddon, found out about this, she decided to help here check prom off her bucket list.
Huddon, 48, from Warwick, Rhode Island, had always wanted to learn more about her grandmother's life.
"She's had a tough life with a lot of memories that aren't so happy," she told news outlets.
Helen's granddaughter, Danis got the consent of the principal to allow her grandmother to attend and then subsequently went over to her house to invite her to prom.
On prom night the two got ready at Huddon's house, where she gave her grandmother a corsage and the two, along with Evan and his friends, rode a trolley to the prom.
Danis admitted that she was very trilled and had a lot of fun and was even crowned honorary prom queen.
"I was so proud," Huddon recalled. "All the seniors were cheering for her and clapping, they ended up naming the principal honorary prom king and he danced with her."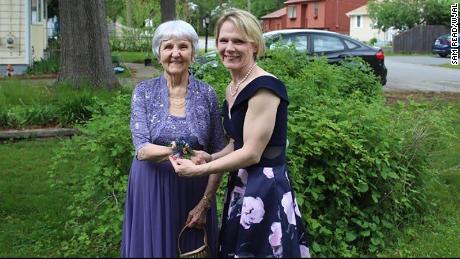 Danis was excited that her grandma had a nice time, "Being so much different in age, and yet to be able to correspond together and make an evening of it, it was nice," she said.
"My favorite part was being there with all the kids, and having such a good time."