A very angry bride has cancelled her wedding after her guests refused to pay $1,500 each towards the planning of the wedding.
Susan from Canada was enraged when it was just days to her wedding an only about eight people had responded with their checks.
Even her maid of honour and her in-laws bailed on her.
In a Facebook post shared to Mumsnet , details of Susan's demands had horrified readers, to say the least.
"Dear friends," it begins, "it comes with great sadness that I am announcing the cancellation of the wedding. I apologise for cancelling only four days beforehand.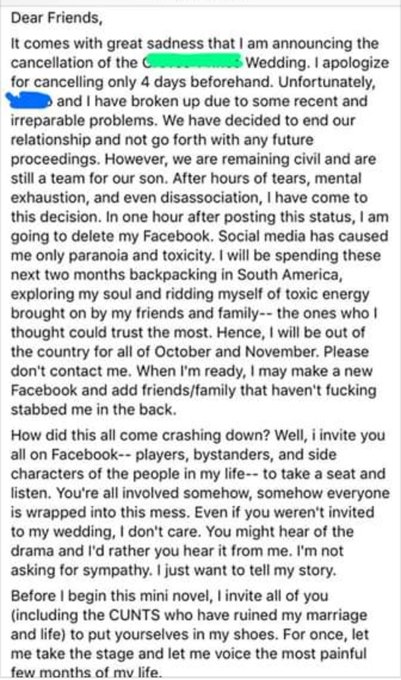 "Unfortunately, [fiance] and I have broken up due to some recent and irreparable problems. We have decided to end our relationship and not go forth with any future proceedings."
The issue was a cashflow problem, with guests refusing to stump up over a thousand dollars to bankroll her "exclusive" day.
"We'd sacrificed so much and only asked each guest for around $1,500.
"My maid of honour pledged $5,000 along with her planning services. We tearfully thanked and accepted. My ex's family offered to contribute $3,000."
Frankly, we're amazed anybody person coughed up, nevermind eight.
"So our request for $1,500 for all other guests was not f*****g out of the ordinary. Like, we made it clear. If you couldn't contribute, you weren't invited to our exclusive wedding. It's once and a life time party [sic].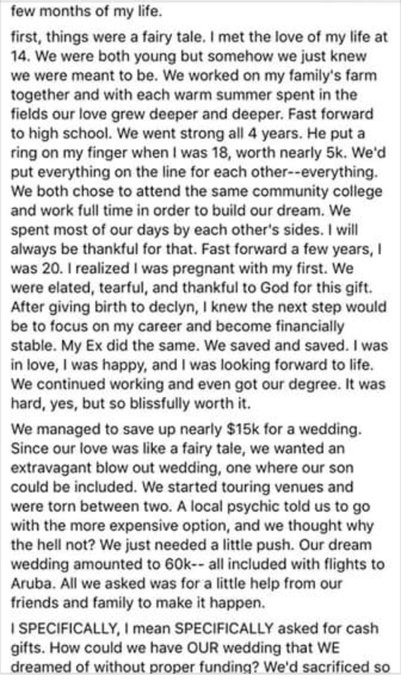 She continues: "I specifically, I mean specifically asked for cash gifts. How could we have our wedding that we dreamed of without proper funding?
"After sending out the invitations, only eight guests RSVP'd with their check of $1,500.
"We were f*****g livid."
When her fiance suggested a cheap and cheerful wedding in Vegas, she apparently "laughed in his face".
Her fiance decided he couldn't go on with the relationship anymore and left her.